Don't you just love getting packages in the mail? I know I do! I was so thrilled to receive
a beautiful handmade Christmas ornament in the mail recently. It was created by my talented
blogger friend Laura from
Decor to Adore.
Every year she creates a new batch of ornaments
that she sells in her Etsy shop, later giving any profits to charity. She's pretty great like that.
This year she had the help of her sweet son who is working on a his Citizenship in the
Community Boy Scout merit badge. The charities that will benefit this year are Boys Town
and The Human Society of North Texas.
The 2015 ornament theme is "There's No Place Like Home." When I saw the
ornaments being offered I just had to purchase one that really spoke to me. I'm a deer
fanatic, so you can imagine my glee when I spied this little guy.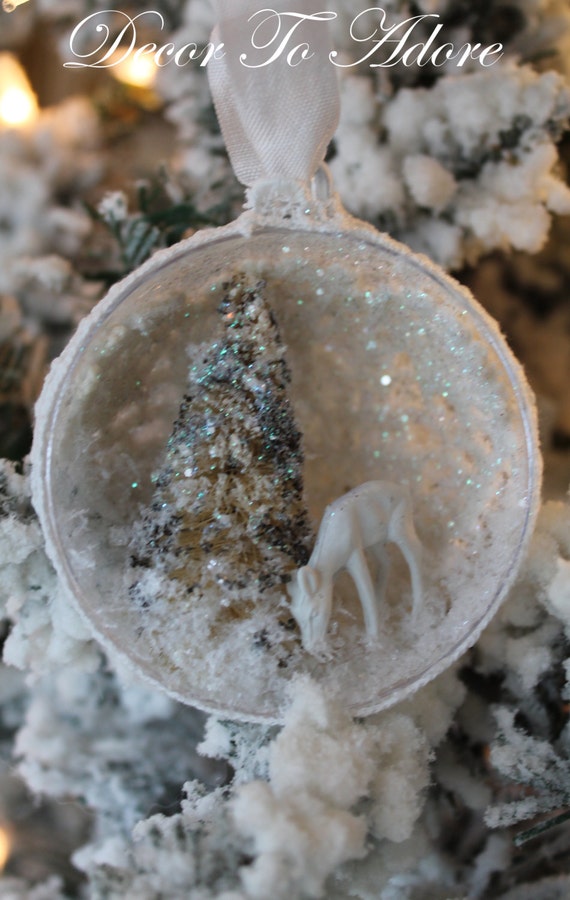 What could be cuter than this deer in the snow, with vintage lace in the background to boot?
Heaven I tell you. I had fun setting it up in a Christmas vignette for the photo shoot.
It came in an adorable Christmas gift bag.
It's so nice when someone takes the time to creatively wrap your purchase.
I know this will be one of my favorite ornaments for many years to come. Sadly, all the
ornaments have already sold. But she also made some darling Putz houses as well and they
are still for sale in her
Etsy shop
. Stop by and show her some love. You won't be disappointed.
Be sure to stay in touch!
Enter your email address in the box below
Don
'
t miss another