Welcome, friends, to another fun-filled Thrill of the Hunt post where I share my latest thrifty (and usually) vintage finds with you.
My hope is that by sharing my thrifty finds I can motivate and inspire you to explore your own local thrift stores, estate sales, flea markets and barn sales and make your own fabulous finds for yourself. So let's get started.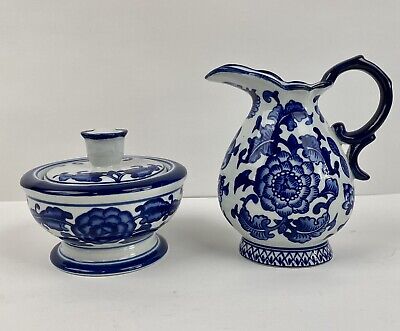 First up is an absolutely gorgeous blue and white creamer. It's part of a vintage Bombay Company sugar bowl and creamer set (photo from eBay). I picked it up at a vintage shop for $8.00.
It's the perfect size for my summer bouquets. And it fits right in with all my other blue and white porcelain pieces. I must admit I've become obsessed with finding the matching sugar bowl, shown in the previous eBay photo, where the set is listed for $59.00 at the time of this writing.

How cute is this? I just popped some pink faux tulips into the creamer and voila.

It fits in very well with my chinoiserie collection.

Here it is sitting in front of my thrifted vintage Ming aluminum Spic and Span tray.

The details are just gorgeous.

I am completely enamored of this blue and white Bombay chinoiserie creamer. Wish me luck finding the matching sugar bowl.

Next up is - surprise - yet another thrifted chinoiserie piece found at a random Goodwill I stopped in while out of town. I knew it had potential. The cachepot that is, not the sad, plastic, waxy tropical leaf I found sticking out of it. But for $2.99 I knew it had potential.

So the weird, waxy leaf was pulled right out and boy, did it start looking better already!

The next step was filling it up with some other faux greenery that wasn't quite so, well, sad. Welcome my faux boxwood greenery.
I'm loving how it looks with my pretty (Dollar Tree) velvet pumpkins on the mantel.

I'm sure I'll be filling it with all kinds of things throughout the various seasons -- pine cones, pumpkins, Christmas ornaments, Easter eggs, faux florals. The possibilities are endless.

I came across this urn for $2.99 at the same Goodwill where I found the chinoiserie cachepot. I had been looking for a similar urn for forever so I was thrilled! (Since then I've even found a taller urn that -- dare I say it?-- I love even more. Details to come.) The fact that my visit to the Goodwill in another town was totally serendipitous made the find all the more special.
As much as I loved the urn and its vintage, chippy shabby look, , I did not like the faux yellow tulips. You can't really tell from the photo but the flowers were very waxy/plastic-y-like. Not the way today's faux florals are very realistic. So I knew I would be replacing those waxy yellow tulips pronto.

So here's what I replaced them with. After easily pulling out the yellow tulips, I just stuck some of my pink silk faux tulips into the urn's floral foam.

I'm liking this look much better. And did I mention that even though it looks like a substantially heavy stone urn it's actually super lightweight?
Once the pink flowers were in the urn I put the urn inside a thrifted decorative bird cage. And how about those garden zinnias in my Dollar Tree farmhouse pitcher?

I also displayed some of my summer garden zinnias in a vintage milk glass vase in front of the bird cage. I love how I can place just about any garden bouquet in front of the bird cage and urn (especially in matching colors), and create a pretty vignette. Like the blue and white cache pot, I can see me filling the urn with other things depending on the seasons -- pumpkins, pine cones, small Christmas trees, etc. This is definitely one of my favorite thrifty finds as I do believe it's a classic.

Well, that's it for today, friends!
I hope you've enjoyed reading about my